The dark in this forest. Once again it reach to my depth.
My hands/heart are/is full of winter,
A cold and icy winter.
My/A ??? bleed, far beyond the sun,
this kingdom will forever/never lay aside (?????)
My journey, to the grounded (???) sea.
I was the last awoke (???????)
I feel (???????) so down, so down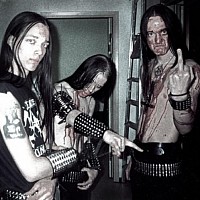 Now I found the ice crown (??)
So bright, a breeze.
This blessed kingdom, that never saw the sun.
My soul in a ?? winter breeze
A winter breeze.
The dark, I now follow from my death (??) eternally to die.
A broken chain (??) of filth (??) a breeze, a country(???)
My breeze, my winter love (???) of death.
My blood freeze, my eyes (??)
A winter breeze takes my life.
Takes my soul far away.
A winter breeze
A winter breeze.
back to top