I was trapped in hell
Somewhere far beyond
Where I found you
And we were always one
Now I feel so alone
with nothing but despair
Can't you feel my fury
Can't you see my iron will
And after all the pain I see opportunity
Can't you see we all must live free?
You and I, we'l fly
We're off to change the world
One by one, they'll all fall down
Util we break these chains of doom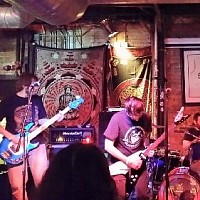 Iris:
I look around and see y world in pain
With no hope for tomorrow
There's no point,
And there's nothing I can do
It's time you learn
That in this world
We all fall down
Moros Nyx:
Take my hand, and you'll see
We'll lead the damned ahead
Take my hand for eternity
Iris:
Leave your dreams behind
We are the damned, you'll see
Leave me behind
There is no hope, and will never be
Iris:
And after all the pain I only see reality
Can't you see we'll never be fee?
Moros Nyx:
And after all the pain I see in you
Moros Nyx:
What is there for me to do, what to do!
Moros Nyx + Iris:
Me and you, we'll lose
We'll never change the world
One by one, we all fall down
Iris:
We Are The Damned
We all Fall Down
Choir:
One by one, they'll fall down
And we'll ride on for eternity
Moros Nyx:
You and I we'll fly
We're off to change the world
One by one they'll fall down
Until we break these chains of doom
...I'm awake