You know what it is
Lazza
When you hear that, heh
Montana
Ehi
Fra' non abbasso la guarda ma grido: "Abbasso le guardie"
Tiravo col Super Santos, ora c'ho un Santos di Cartier
Bebe tu fatti da parte
Meglio una troia che cento leonesse
Mio frate anche se ha messo su famiglia
Butta lo stipendio in un centro scommesse
Mase biturbo, non fare il furbo
Culo per terra, fumavo un tubo
Ora i miei cerchi sono da 21"
Ora se cerchi mi trovi su Google
Fra', sono a casa
Apro l'ombrello anche al coperto
Anche se, frate, non c'è brutto tempo
Non porta sfiga se piove un milione di euro
Tictac sullo Skeleton
Ho tre tipe diverse, Benetton
Frate, sanno che sono un pesce grosso
Stanno addosso, fra', come la Telecom
Mollaci il grano, altrimenti ci arrabbiamo
Come Bud Spencer
Sai che sono attaccato a 'sto palo
Come una lap dancer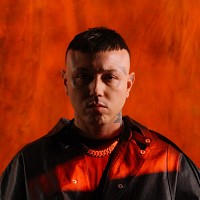 Mmh, Puto, sono su Pluto, 1-3-1-2, sputo
Nuovo completo in velluto
Ora che sono un venduto
La broom del mmh
Cerchi 21"
C'è un pss nella mmh
Ti fanno un buco
Mmh, Puto, sono su Pluto, 1-3-1-2, sputo
Nuovo completo in velluto
Ora che sono un venduto
La broom del mmh
Cerchi 21"
C'è un pss nella mmh
Ti fanno un buco
Montana, heh (Eh)
Hop out the 'Rari, you know the story
Slide out with shawty, heh (Skrrr)
Fuck up the party, we get retarded
Sell out the Garden (Eh)
Swipe your bitch for ransom (Ransom)
Walk out the jeweler, avalanches ('lanches)
Before rap, taking those chances (Chances)
Block jumpin' like Steve Francis (Eh)
Whippin' up two pots
In my pants, two Glocks
New money, now I got new opps
New Yankee fitted with the blue drop (Blue drop)
Fuck a blue check, need a blue knot (Knot)
Pull up, just me and the posse (The posse)
Beef till they die, we don't squash it (Squash it)
Straight to the top, ain't no options (No options)
Hit 'em from a three like Starks (Starks)
Drop a couple mill' on the watches (Bling)
Did a couple drills with the mobsters (Mob)
Smokin' that dank with the Rastas (Smoke)
Shorty lying, yeah, she need a couple Oscars (Oscars)
I'ma snipe, two piece
In a drop, two seats
What's better than the old new freaks? (Errr!)
On my neck, rubies
Took two grams, flipped back two keys, heh!
Mmh, Puto, sono su Pluto, 1-3-1-2, sputo
Nuovo completo in velluto
Ora che sono un venduto (Damn)
La broom del mmh (Mhmmm)
Cerchi 21" (Skrrrrr)
C'è un pss nella mmh
Ti fanno un buco (Uhhh)
Mmh, Puto, sono su Pluto, 1-3-1-2, sputo
Nuovo completo in velluto
Ora che sono un venduto (Damn)
La broom del mmh (Mhmmm)
Cerchi 21" (Skrrrrr)
C'è un pss nella mmh
Ti fanno un buco