Last time I saw You here
Was just light night
But now, you're disappeared
And I feel fright
I'm runnin thru black streets
I hear You scream
I see the gates of hell
It's just a dream?
Eurynomos, the prince of death
Has come to take you home
I see your fearful face
What can I do?
The sky is burnin' red
An' I'm losing you
The bell of Hades sounds deadly
As I run to your house
I open up the door
And feel the heat of hell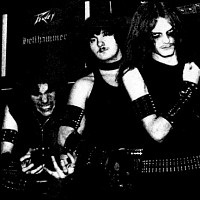 They took away my bride
I'm a broken man
They take you as a sacrifice
Your guts in a can
Upped by Chris Zewe
The dagger slicks in your chest
Bleeding in pain
I plead for your life
But it's in vain...