WAndrew Lloyd Webber
- Texte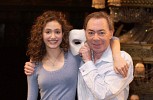 Liedtexte

Playlist

Fotos

Fanclub
Nicht eingeordnete Lieder
Video
Übersetzung
Karaoke
Angezeigt
Video
Übersetzung
Karaoke
Angezeigt

Cats
(1981)
Video
Übersetzung
Karaoke
Angezeigt
Memory

15
Das ganze Album abspielen

By Jeeves
(1976)
Video
Übersetzung
Karaoke
Angezeigt
Love's Maze

12
By Jeeves

13
It's a Pig!

14
Banjo Boy

13
Das ganze Album abspielen

The likes of us
(1965)
Video
Übersetzung
Karaoke
Angezeigt
Love is here

15
Das ganze Album abspielen
Verwalter des Musikers Andrew Lloyd Webber ist Afariz; . Falls Du feststellst, dass hier etwas nicht stimmt, schreib dem Verwalter.
Falls Du auch Verwalter sein möchtest, sende Deinen Antrag an Verwaltung. Liedtexte, Übersetzungen und Videoclips dürfen nur von registrierten Usern eingefügt werden.